Dynamic Collaboration Academy: Hands-on sessions, Integrated Learning Experience, and Deep Dive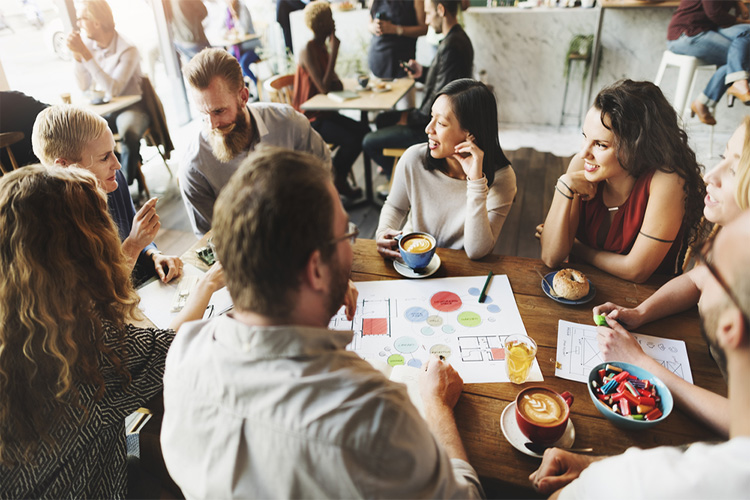 The key questions addressed in the Dynamic Collaboration Academy are the stepping stones to examining the root causes of common challenges in working together:
Reversing difficult strategy realization and slowed growth.
Responding adequately to evolving customer expectations.
Preventing progressive siloisation and difficult interdepartmental and departmental cooperation.
Effectively realizing innovation and change.
Ensuring that projects and milestones are delivered on time and without rework.
Ensuring operational excellence.
Developing leaders who can handle the complexity of their roles.
Making quick and effective decisions at every level of the organization.
Creating self-managing winning teams.
Our training offerings include hands-on approaches, integrated learning experiences, and deep dives.
Below you can find the workshops organized in English. You can find the complete program of the Dutch sessions on our Dutch page (click on the dutch flag in the right up corner of this website)
We also offer a one-day Dynamic Collaboration application training course. This training enables you to get started with the digital tool practically. This training is usually organized on demand and adapted to specific user requirements of the participants.
All training initiatives can be adapted to specific business situations and challenges. Our ultimate goal is to co-create sustainable individual, team, and organizational development paths with a co-creation team from your organization.
Below is an overview of the training initiatives. The training initiatives reinforce each other but can also be followed separately.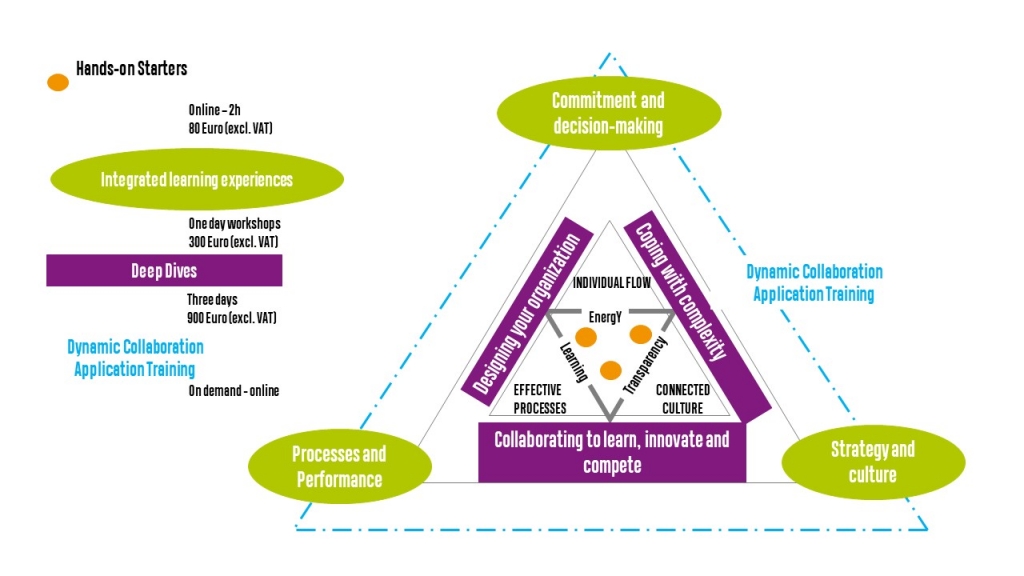 We currently offer a selection of our programs in an open version in English. However, all training programs you can find on the dutch page are also available in English. These are delivered in-company and interwoven with organizational development programs. Below you will find an overview of the fall courses offered in English.
If you are interested in one or more programs, but still have questions, please do not hesitate to give us a call. We will be happy to arrange a Zoom consultation to answer them.
The training courses are provided by Jan De Visch and Maarten Van Damme.
Overview 2023
Hands-on practices
We notice that a range of new cooperation practices is emerging. In the Hands-on, we highlight one practice at a time. However, they have in common that they address themes that determine the undercurrent of collaboration and remain a hidden spot in existing approaches, such as working from nearby development zones, taking the entire context into account by working with relative performance indicators, and focusing on (more) thoughtful action.
In the Hands-on session, you will get a hands-on view of the practice and discuss how you can apply this practice in your organization.
The price per hands-on session is 80 Euro (excl. VAT). The sessions are online.
Integrated learning experiences
In the integrated learning experiences, we take you through what is happening at the intersection of two cornerstones in the Dynamic Collaboration approach.
Proactive decision-making and involvement occur when clear instructions align with the corresponding decision-making of individual employees. This leads to individual flow. This is a situation where employees are optimally productive and get energy from their work. As a result, you avoid burnout and bore-out.
A culture that connects is created when autonomous decision-making is accompanied by integration mechanisms whereby differences in perspectives are interwoven. This leads not only to a connection of employees with the greater whole of the strategy but also to a stronger mutual connection and collaborative thinking. Moreover, it avoids siloisation and alienation of employees.
Processes and systems that lead to learning emerge at the intersection of the integration mechanisms with the mission. This leads to operational excellence, customer orientation, and innovation. You avoid systems that are too focused on registration, too fragmented in design, and paralysing in operation.
The price per day is 300 Euro (excl. VAT). The English program is provided digitally.
Deep dives
The deep dives always start from one cornerstone of the Dynamic Collaboration approach: decision-making, work design, and team dynamics. They are three-day programs in which we make a unique connection between the best scientific research on the themes and the emerging practices in organizations.
The deep dives are three-day programs aimed at senior managers and systemic organizational development supervisors who are confronted with the limits of their approach and want to enrich their perspectives. The Deep Dives are designed to reinforce existing frameworks and toolkits. Indeed, each Deep Dive brings to light a hidden dimension and a complementary intervention process. This allows you to weave the insights provided into your approach.
The deep dives consist of three days each, spread out over time. The participation fee per deep dive is 900 Euro (excl. VAT). The Dutch-language sessions take place physically. The English program is provided digitally.
Dynamic Collaboration Application Training
The Dynamic Collaboration Application Training will enable you to get started with the digital application.
The application consists of two primary modules: a storyline generator and a value mirror. Based on these, you can generate the following reports:
An individual value mirror: this report forms the basis for developing a personal development plan.
Description of the essence of a role: based on this report, you can enter into a highly focused dialogue on job and role filling. The descriptions can also be used as a basis for labor market communication.
An individual in-flow report: this report indicates whether an employee is in-flow and what can be done to maintain or restore this flow.
A team value mirror: this report forms the basis for a team development plan.
A team dynamics scan: this report clarifies how a team comes to integration (or not) and how to strengthen its integration capacity.
A structure of responsibilities scan: the report provides an overview of the quality of the relationships between assignments (functions/roles): where there are overlaps and too large function/role distances. It forms the basis for the evolution of the organizational structure.
After the application training, you will acquire a user's license and can use the digital application free of charge for one month.
The Dynamic Collaboration application training takes one day and is organized on request for specific organizations and consulting networks. We adapt the training to the particular needs of the participants. The daily fee is 1600 Euro (excl. VAT) divided by the number of participants. Therefore, the number of participants is limited to 5.
The training is given digitally. The individual participation fee is 800 Euro (excl. VAT).
As a participant, you learn:
How to objectify the quality of your organizational structure and define tasks (functions/roles) in a contribution-oriented way,
How to assess employees' perspective-taking and use it as a basis for development-oriented coaching,
How to make team dynamics negotiable.
Integrating the diversity of reports into the individual, team, and organizational development approaches with the associated intervention processes.
How to use the set of tools to develop a new generation of Human Capital practices: matching employees to assignments, developing learning paths, building winning teams, and shaping performance management systems).