Key resource
'Practices of Dynamic Collaboration: A Dialogical Approach to Strengthening Collaborative Intelligence in Teams', by Jan De Visch en Otto Laske.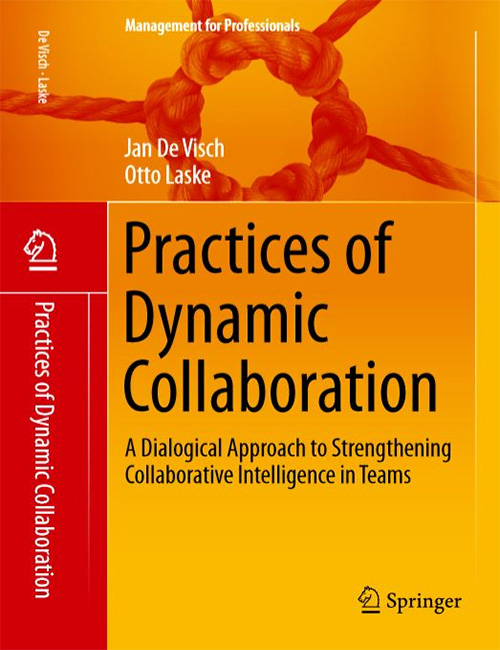 This book provides senior managers, project- and program managers, team coaches and team leaders with thought and management tools for potentiating self-organization and creating collaborative intelligence in teams.
Adapted and expanded from the 2018 Dynamic Collaboration: Strengthening Self-Organization and Collaborative Intelligence in Teams, the book aids readers in establishing team structures optimal for shared leadership, based on the longitudinal adult development of contributors, especially as team members. Drawing from theoretical and empirical research on social-emotional and cognitive development since 1975, the authors create a provocative paradigm of forming, managing, evaluating and linking teams into networks. They introduce an empirically validated team typology and workspace analysis of dialogue spaces called 'We-Spaces'.
Featuring real world examples and cases of teams that have become self-organizing, this book is a valuable resource for upper and middle level managers, CEOs, Board of Directors as well as consultants, researchers and academics in human resource management, adult development, team building, leadership and organizational management.
You can order the book on Amazon.
Endorsements
"The authors of this book, well aware of the Neo-Taylorism pervading today's organizations, present the reader with a paradigm shift in conceiving of human resources, thereby initiating a management thinking turn-around. Based on empirical research in adult development, they design practices and build tools for unburying hidden resources for reflective dialogue all organization members are thought to possess. As a human resources manager, strategic consultant, and director of organizations working in different industry sectors, I can highly recommend the new thinking frameworks and practices the book explores, which taken together amount to a true revolution. Specifically, the authors address how team members become able to collaborate at a deeper level once helped by critical facilitators to listen to themselves and others more intently. Their book will be a boon for students, consultants, and managers alike."
Danny Saerens – CEO Broaden Your Worldview
"For me, understanding team members' capability to handle real-world complexity has been the eye-opener of the past decade. Thanks to the insights conveyed by Jan De Visch and Otto Laske in this book, I now understand why teams become dysfunctional even more deeply and grasp better the crucial relevance of constructive dialogue in teams. I consider the book as a treasure trove of insights CEOs of any kind of organization craves and needs, regardless of the size of his or her enterprise."
Jan Lagast – CEO of Impact Builders
"Whether your attention is focused on individuals, teams, or organizations, this book challenges the way you think about your day to day reality. It brings light to bear not just on your own and your team's development, but equally sheds light on your organization's performance, its culture, leadership, and strategy deployment, inviting you to approaching your work in a new way. The book manages to do by stepping away from rational-deductive thinking in management, showing that reducing reality to what can be measured short-term does not work. Its authors see reality as a dynamic equilibrium of conflicting forces and identify key enablers for bringing about organizational thinking of requisite complexity."
Steven op' t Roodt – HR Director BD Europe at BUSINESS and DECISION, Orange Group